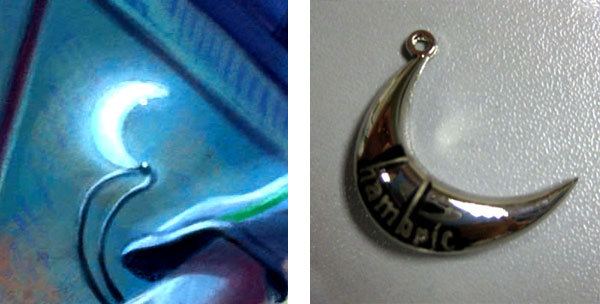 As many of you might have noticed, the moon-shaped necklace is a key part of BRAN HAMBRIC: THE FARFIELD CURSE (if you look at the cover, you can see that Bran is holding it!). So, the amazing people at Sourcebooks decided to make a REAL moon necklace charm, just like in the books!
The charm is made of shiny metal and has "Hambric" on it, just like the necklace in the book. And, the best part about this: you can very easily get one FOR FREE! All the info from Sourcebooks is below:
WIN HALF MOON CHARM & EXCLUSIVE EVENT INVITATION! Anyone who posts links to the Bran Hambric Amazon.com, Barnes&Noble.com and Borders.com links on their social networking sites (ex: Facebook, Myspace, Twitter, YouTube, blog, website, etc), and posts a review of the book on one of the retail sites, will receive a Bran Hambric Half Moon necklace charm and an exclusive invitation to a Blog TV event with Kaleb, where he will reveal secrets from the next book in the series! Proof of links and reviews must be emailed to [email protected] (please put "Bran Hambric Street Team" in subject-line). Promotion ends September 30.
I have some of these awesome necklace charms coming in the mail, and I'll have more photos of it soon! It's kinda crazy seeing something made in real life from a story that I wrote 😀