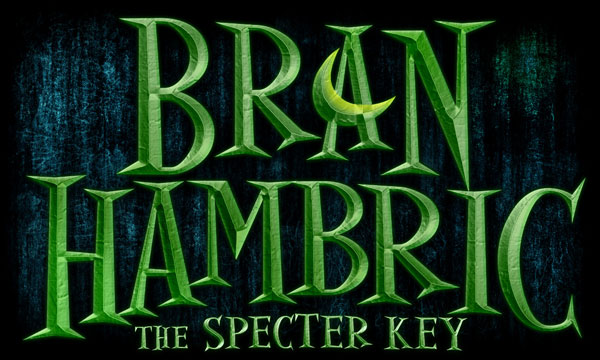 The much-anticipated sequel to Kaleb Nation's BRAN HAMBRIC: THE FARFIELD CURSE has been announced, to be titled BRAN HAMBRIC: THE SPECTER KEY.
In BRAN HAMBRIC: THE SPECTER KEY, while sorting through the same vault where he was found as a child, young mage-in-secret Bran Hambric discovers an old deposit box left in his deceased mother's name. Unable to open its enchanted lock, Bran is suddenly haunted by strange messages from invisible spirits who call themselves the Specters. Bran discovers that the Specters have been enslaved by magic, and that there are those who will stop at nothing to take control of their dark powers.
BRAN HAMBRIC: THE SPECTER KEY, the second novel by 21-year-old author and social media personality Kaleb Nation, is set for a Fall 2010 release from Sourcebooks Jabberwocky. For more info, visit www.BranHambric.com. For more on the author, visit www.kalebnation.com.
For press info ONLY, please contact Heather Moore ([email protected]).
***********
I can't even begin to express how excited I am about this book. While I didn't complete The Farfield Curse until 2008, I was so eager to get started on the sequel that by July 2007, still with no book deal yet, I was simultaneously finishing it and writing on The Specter Key! While each book in the Bran Hambric series is a story of its own, when you finally get to read The Specter Key, you will realize instantly that the series itself is all part of a very large saga of its own.
I've been working on this sequel for nearly three years now, so there are plenty of surprises to be revealed in the next book. I've already revealed three clues to the sequel in interviews and at book signings: Firstly, that the title is Bran Hambric: TSK; Secondly, that it will reveal Bran's real father; and Thirdly, that it will explain what Emry's magic used in the prologue of The Farfield Curse to send Bran to the bank vault. I think you have a good idea about at least two of those now.
If you follow me on Twitter, I often give little clues as to what I'm writing, as I finish these final few chapters of writing BH: TSK. Can't wait for you to read it!
Kaleb