"New Eyes" – The Harken-Inspired Song
https://kalebnation.com/wp-content/uploads/2013/02/new-eyes-email-promo.jpg
550
230
Kaleb Nation
Kaleb Nation
https://secure.gravatar.com/avatar/1208a8d99774c3050df87019ae4342d1?s=96&d=mm&r=g
Because I'm addicted to the Internet, I keep up with all of your HARKEN posts on Twitter, Tumblr, Youtube, Facebook… Instagram… everywhere else. Some of your creations are so special that I have to share!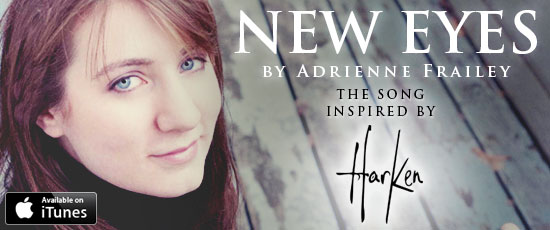 My favorite new thing is Adrienne Frailey's HARKEN-inspired song NEW EYES. It's thrilling to see an artist read something I created and be inspired to create something new. You can get NEW EYES on iTunes or hear a preview in my new vlog:
Adrienne didn't stop at NEW EYES! If you visit her website, you can listen to an entire soundtrack she created for the book.
Something special is on the way for February – you'll hear about it first if you're on the HARKEN email list. I'm so excited to share it with you soon!