Kaza Kingsley is the author of the Erec Rex series. Already there are two books out in the series, titled The Dragon's Eye and The Monsters of Otherness.
Thanks Kaza for being here. First, for all the writers here, I have always been curious about that very first book signing, your first time out with your published book. How did that go and where were you? What did you do to prepare?
My first signing at Borders Books in Cincinnati was fantastic. Of course it helped that everyone I knew and their brother showed up to support me. I was floating on air, truly. I didn't do much to prepare – I didn't even do a reading at that signing. It was too busy, so I just socialized and signed books. A lot of fun! Then I had a party at my house that night to celebrate.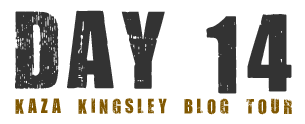 You appeared at the Book Expo America some time ago to promote your books. What was the BEA like your first time there as an author?
That was an amazing experience. The Javitz center was enormous and packed with people. And the signings I did were incredibly busy. It was a little overwhelming – my publicist had given me a list of people to meet, but only a few of them were at their booths.
The best part was winning a bunch of awards at the BEA. ForeWord Magazine Awards took place in the middle of the Javitz center, and Erec Rex won silver for YA Book of the Year! The worst was that I got incredibly sick the second day I was there. It was hard to even walk. I had been throwing up all night.
Have you ever walked into a bookstore and stumbled upon your own book when you weren't looking for it?

There were two times when that happened, which says a lot because I usually look for my books when I'm in bookstores! The first time that one caught me by surprise though was when I was on my first book tour in California. My books were endcap at all the Barnes and Nobles over the holidays, but were much more spotty in the Borders stores at that time. So it totally caught me off guard when I walked into a Borders in Northern California (near San Francisco I think) and Erec Rex was in the front of the store case with the kids bestsellers! That was a cool surprise.
The other time was when I was in a Barnes and Noble in Cincinnati and first saw Monsters of Otherness on the shelves. It came out a few weeks earlier than I expected, and that totally caught me off-guard!
It was also pretty exciting seeing Book One in the Borders Original Voices bay last month!
Writers who aspire to be published fixate upon the smallest details of real author's lives, almost as if they can mimic it and get closer to publication. Do you have any odd and unusual habits which help you in regards to writing? (I must have a movie soundtrack on and I always picture every scene as a movie before I can get it right).
That really does help to picture scenes like movies – I do that to an extent, although not always consciously. But I do have habits, for sure. When I sit down to write, I always have a cup of herbal or green tea with me, and some kind of organic chocolate. For me, it sets the right atmosphere for me to relax and enjoy myself, which is really what it's all about. I'd suggest to writers that they make it a treat, something to look forward to!
I know this has been answered before, but could you talk a little about where you were and what you were doing when you first had the idea for Erec Rex?
I'll never forget when the idea hit me over the head. It was right after New Years Eve, and I was in Chicago, when I first pulled out the paper and wrote down the concept of Erec's adventures, drawing from the Hercules legends. I had been getting into mythology, which set everything up for me. But once I started plotting I couldn't stop! I think the further I went with it, I began to realize that I really had something exciting.

You plotted the Erec Rex series for months before writing the first book. Did certain things change as you wrote the books?
Yes, there were definitely some changes. But what amazes me is how most of the original plot is intact. So much goes into writing a book, as you know, and then a series, that it's exciting to see the original plot points holding firm.
Some writers tend to be perfectionists. Do you ever catch yourself changing certain words as you read your book at appearances?
Yes! That's so funny. I never thought about it, but I really do that. I am a perfectionist, that is for sure. Every time I pick up a draft to edit it, I make changes. Every time. I don't think I would ever stop changing my wording. Finally I get to a point when I just have to turn it in, because I know the changes I'm making aren't as meaningful after, say, the tenth time through it.
I recently watched A Year In The Life of J.K. Rowling, a television documentary which highlighted this author's amazing life story. Which part of a branded author's success would you enjoy more: the worldwide obsession over your book series and life, or the astronomical book sales?
I think I'd enjoy them in this order:
1) The worldwide obsession with my book series
2) The astronomical book sales (meaning money.)
3) And any obsession with my life would be last. As much as I love to have my characters known, I'm not really one for the limelight myself. I mean, I enjoy it, I do. But only to an extent. I like my privacy, too.
When the success of your book began to grow, did people begin to act different around you?
The people who already knew me still treat me the same, which is good. But new people, who have only met me as a published author, do get a little excited sometimes!
Some writers associate certain parts in their book with where they were when they wrote it. Stephenie Meyer recounts how the inspiration for her book came in a dream. J.K. Rowling vividly remembers writing certain scenes in a pub after a big argument with her boyfriend. Do you have any connections between places or times in your life with certain events in the Erec Rex books?
Yes – it makes me smile to think about it. There were the relaxed times at the beginning of Book One, writing in my local Borders store. Then there were those times writing the tough scenes in Book Two that threw me into an awful mood. One time I'll never forget is how I felt after I finished Book One. I remember laying awake for hours in bed that night, mind spinning. I knew, somehow, that this would be big for me. It was like letting a huge new entity into my life.
When is the third book planned to be released?
This coming fall – October – keep your eyes out for The Search for Truth!!
Submitted Questions:
Vivi Lester asks: Is there a reason you chose to spell Erec with an E instead of an I?
The main reason Erec is spelled with an e is that the series is loosely based on the legend of Hercules. In Greek Hercules was called Heracule. I thought about naming my character Erac (Which is pulled from H erac ule) but Erec is much easier to pronounce and has the same feel. Also, Erec (with an e) is a celtic spelling – and there is some Celtic mythology in my series as well!
Oiasnfs asks: Where do you write? Do you write (at a certain) time?
I used to write everywhere and anywhere. I wrote book one at coffee shop counters, and in the local Borders store . . . even outside! It made me feel a little more like I was with people, even though I was working along. But over the course of writing Book Two I got into the habit of writing at my desk in my room. A little more solitary, but it doesn't bother me now. And it saves driving time!
YosAnte B asks: (J.K) Rowling had the ending of her book (written) out in a safe for years. Do you have certain pieces of Erec Rex books for the ending already written?
I have what will happen in the ending, in detail, written out, along with many things that will happen in books along the way. But I don't really want to write the ending until I get there. I know when I write a book, if I write the ending scene too early it will end up missing something and not be complete. So I don't really have an urge to do it. Writing it – as my notes – seems the right option for me compared to writing the actual series ending this early.
Inqizz asks: Is there (a story behind) Erec taking the name Rick Ross or is it like based on somebody's name you know?
Actually, there are stories behind most names in the book, but not that one! Rick sounds like Erec, so his mother just grabbed it out of the air in a hurry!!