Interview with Kaza Kingsley
https://kalebnation.com/wp-content/themes/osmosis/osmosis/images/empty/thumbnail.jpg
150
150
Kaleb Nation
Kaleb Nation
https://secure.gravatar.com/avatar/1208a8d99774c3050df87019ae4342d1?s=96&d=mm&r=g

Kaza Kingsley is the author of the Erec Rex series. Already there are two books out in the series, titled The Dragon's Eye and The Monsters of Otherness.
Thanks Kaza for being here. First, for all the writers here, I have always been curious about that very first book signing, your first time out with your published book. How did that go and where were you? What did you do to prepare?
My first signing at Borders Books in Cincinnati was fantastic. Of course it helped that everyone I knew and their brother showed up to support me. I was floating on air, truly. I didn't do much to prepare – I didn't even do a reading at that signing. It was too busy, so I just socialized and signed books. A lot of fun! Then I had a party at my house that night to celebrate.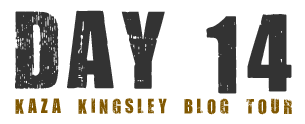 You appeared at the Book Expo America some time ago to promote your books. What was the BEA like your first time there as an author?
That was an amazing experience. The Javitz center was enormous and packed with people. And the signings I did were incredibly busy. It was a little overwhelming – my publicist had given me a list of people to meet, but only a few of them were at their booths.
The best part was winning a bunch of awards at the BEA. ForeWord Magazine Awards took place in the middle of the Javitz center, and Erec Rex won silver for YA Book of the Year! The worst was that I got incredibly sick the second day I was there. It was hard to even walk. I had been throwing up all night.
Have you ever walked into a bookstore and stumbled upon your own book when you weren't looking for it?