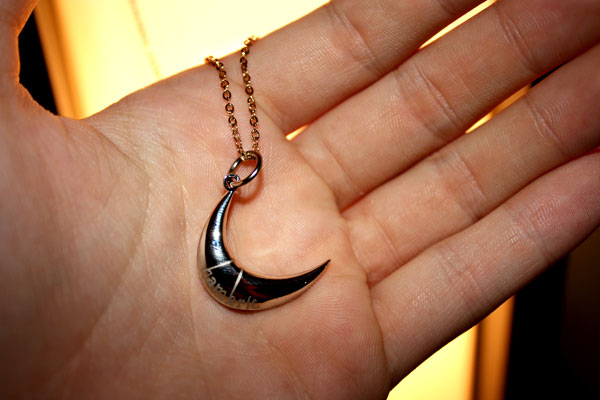 I just got a package in the mail from my publishers with some awesome Bran Hambric necklaces! They are shiny, silver, and have "hambric" on the side, just like the one in the book!
You can still get one of the Bran Hambric necklace charms for FREE (meaning, you pay nothing — AKA best deal ever). Here's all the info again:
WIN HALF MOON CHARM & EXCLUSIVE EVENT INVITATION! Anyone who posts links to the Bran Hambric Amazon.com, Barnes&Noble.com and Borders.com links on their social networking sites (ex: Facebook, Myspace, Twitter, YouTube, blog, website, etc), and posts a review of the book on one of the retail sites, will receive a Bran Hambric Half Moon necklace charm and an exclusive invitation to a Blog TV event with Kaleb, where he will reveal secrets from the next book in the series! Proof of links and reviews must be emailed to [email protected] (please put "Bran Hambric Street Team" in subject-line). Promotion ends September 30.