NATIONEERS Shirts FTW!
https://kalebnation.com/wp-content/themes/osmosis/osmosis/images/empty/thumbnail.jpg
150
150
Kaleb Nation
Kaleb Nation
https://secure.gravatar.com/avatar/1208a8d99774c3050df87019ae4342d1?s=96&d=mm&r=g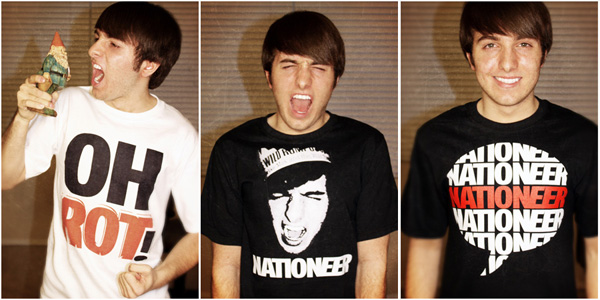 FINALLY: the NATIONEERS shirts have arrived! I've had these designed for a week now, but I wanted to order them myself before I opened the shop, to make sure they were good quality. And as you can see, they turned out amazing!
You can order these and many others, including a Bran Hambric logo or emblem shirt, at
In a few days, I'll be making a video showing the shirts. Keep an eye out for that, because there'll be prizes 😀
IF YOU BUY A SHIRT and want your photo possibly featured on my site or in my videos, send pictures to [email protected].
ABOUT THE SHIRTS: one of the important reasons I ordered these shirts first is because I wanted to see what type of cloth it was actually printed on. Sometimes, with these print shops, they'll use cheap shirts that are really thin and unwearable. HOWEVER: these shirts are VERY high quality. They aren't like the thin undershirt you might get other places: they're comfortable enough to be worn for pretty much anything. I'm wearing one now (yes, it is weird looking down and seeing my own face).