So people have been asking for NATIONEERS shirts for a while now, and after many months of procrastination*, I'm finally getting some of the designs set up!
The ones you see here are the preliminary designs, so think of them as a 'first draft' of Nationeers shirts. There will be a lot of other designs when the store officially launches, hopefully within a month**, with more added every so often. When iChilla.com launches, there will also be Chilla shirts too. I'll upload more design photos as they come in 😀
What do you people think of the shirts so far?
ADDED 2/4 : Here are two more designs that will also be available: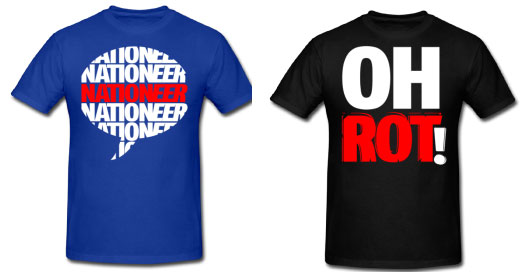 I just sent in an order for these, as well as two special Bran Hambric designs and a few other colors. Once I get them and see that they're all great I'll open the shop (and, give some away as prizes)!

—
* The reason it's taken me so long to get the shirts set up is because most shirt printers are ridiculously overpriced, and the ones that have good prices destroy the quality. I FINALLY managed to find a place that'll do these for the cheap + cool colorz!
** I'm delaying the launch because I want to order these shirts myself first to make sure they turn out fantasticablez