There is something special in a writer's first advance check. Many of you probably have an idea what that is: when a publisher makes a deal with an author, they lay down what is called an advance. This is money paid in advance to the author, in the hopes that his or her book will earn it back; following publication, the royalties an author earns off book sales slowly repays it. The original concept of an advance was probably so the author of old, being intrinsically penniless, might at least avert starvation long enough to finish the book.
Though I signed the contract a while back, and sent it in, there is such a long process on the publisher's end that it usually takes a few months to get it back with their signature, as well as the on-signing advance. By getting those back in the mail, all has been signed and sealed, and now all that's left is to prepare the book for publication! Some photos:
Me, signing the back of my first advance check. The Unwritten Manual of Authorly Proceedings & Conduct dictates (Section 2, Article C) that an author should always use a unique pen to sign their checks and contracts, as here seen in the pen-made-of-awesome my agent gave me: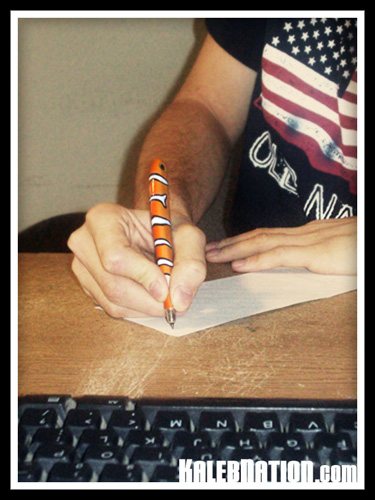 While I was writing, I read dozens of writer blogs, and I always wanted to know what exactly a full manuscript looked like, before all the edits. Never finding one, I told myself I'd put one up for anyone else out there like me (by the time I'm through editing, picture about 2/3 this size):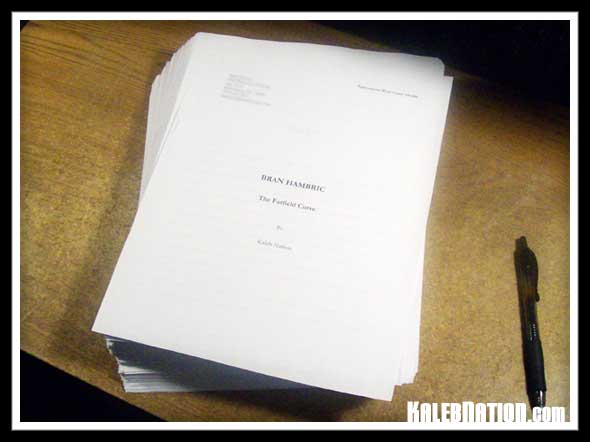 There is one line in this book deal that represents 6 years of work, a box of notes, a dozen notebooks, two drawers in a filing cabinet, and countless days and nights spent with characters and ideas. That line is this:
AGREEMENT made by and between Kaleb Nation…hereinafter referred to as "author"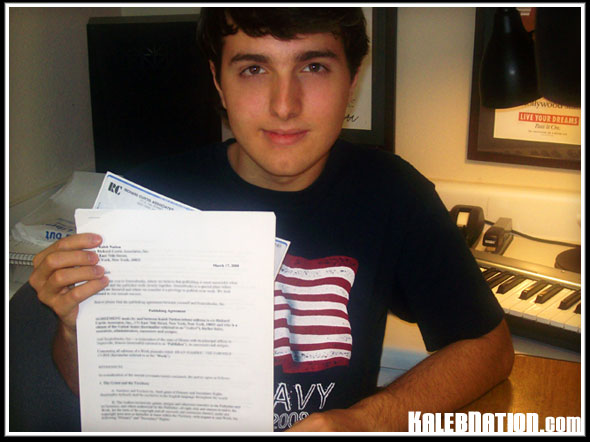 The signed contract, with the check hiding in the back.