Brandon Dorman, the award winning illustrator of SAVVY and FABLEHAVEN, has signed on to illustrate the upcoming novel BRAN HAMBRIC: THE FARFIELD CURSE, by Kaleb Nation. Dorman's cover art for SAVVY by Ingrid Law was chosen as the " "favorite book jacket of 2008" by Publisher's Weekly. His previous works also include covers for the FARWORLD and GOOSEBUMPS series.
THE FARFIELD CURSE is the first in a new series of books by Kaleb Nation. In THE FARFIELD CURSE, a boy named Bran Hambric discovers he is at the center of a plot that started years before he was even born: the plot of a deadly curse his mother created that her former masters are now hunting for him to complete. The novel is set to release in stores Fall of 2009 from Sourcebook Jabberwocky.
Kaleb Nation began writing THE FARFIELD CURSE when he was fourteen years old. Now 20, he attends college in Texas and blogs regularly at www.kalebnation.com. THE FARFIELD CURSE is his debut novel.
More info on the illustrator can be found at www.BrandonDorman.com. More info on Bran Hambric can be found at www.BranHambric.com
————————————————————————————————————–
I can't even begin to say how long I've waited to announce this!
Here is how it happened. A month or two ago, I emailed my editor the names of two illustrators I really liked, hoping that he would take a look and consider them doing the cover. He wrote back saying they were already far ahead of me, and were in talks with my top pick for the illustrator before he even got my message! So in the end, and through wonderful fate, my publishers signed on my dream illustrator without even knowing.
Readers of my blog might recall me listing some of my favorite covers months ago, and it turns out that Brandon did one of them: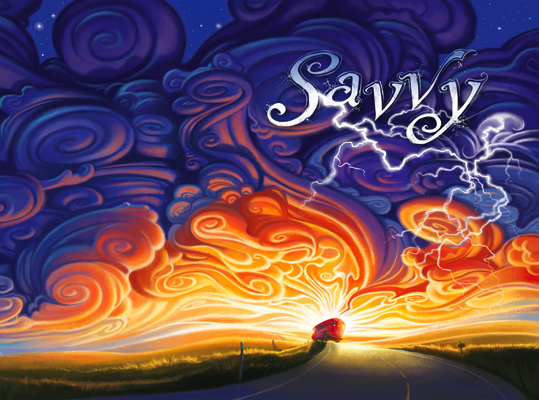 His artwork is stunningly colorful, and I'm certain he will do a wonderful job for The Farfield Curse! This also means that Brandon will most likely do the entire series: just like Brett Helquist did all the Lemony Snicket books, and Mary GrandPre did all the Harry Potter's, it looks as if Brandon will be the illustrator for Bran Hambric!
He has already finished the early draft sketches of the cover art, one of which will turn into the final cover for the book. I doubt it will be any longer than 3 months (and perhaps, drastically shorter) before the cover is finally ready!
Question for the comments: What do you think of Brandon Dorman's art? Do you think he'll do well for the Bran Hambric cover?