The preview chapters of HARKEN are finally up! You can now read the first 3 chapters of my next book for free at ReadHarken.com.
It's really exciting to share the preview with all of you. HARKEN is a project I've been working on for almost 3 years now, and to finally reveal some of it means we're that much closer to 1/13/13. Less than a month until you can read it!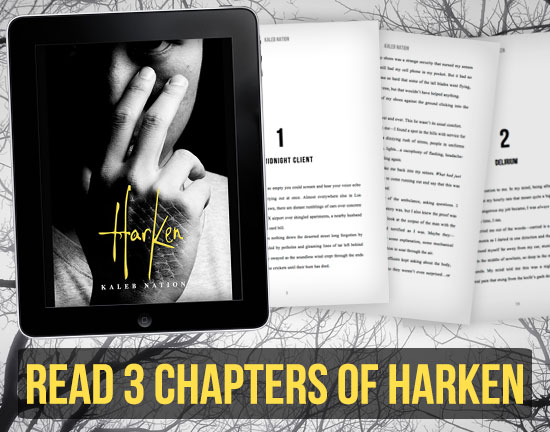 While you're waiting, how about a contest? I'll be receiving a ton of HARKEN merch soon and I want to give it to you! I'd show you a photo but the mail is moving slowly around the holidays and the packages haven't arrived, but imagine: a gigantic poster, a glow-in-the-dark wristband, a ring from the book, a postcard, and anything else I can stuff in.
It's easy to enter! All you have to do is download the free preview of HARKEN, then post your favorite quotes or parts of the book to Twitter with the #HARKEN so I see it. Or leave a comment on my new video to be entered too.
Let me know what you think of the preview. 1/13/13 will be here in less than a month!
Kaleb Nation